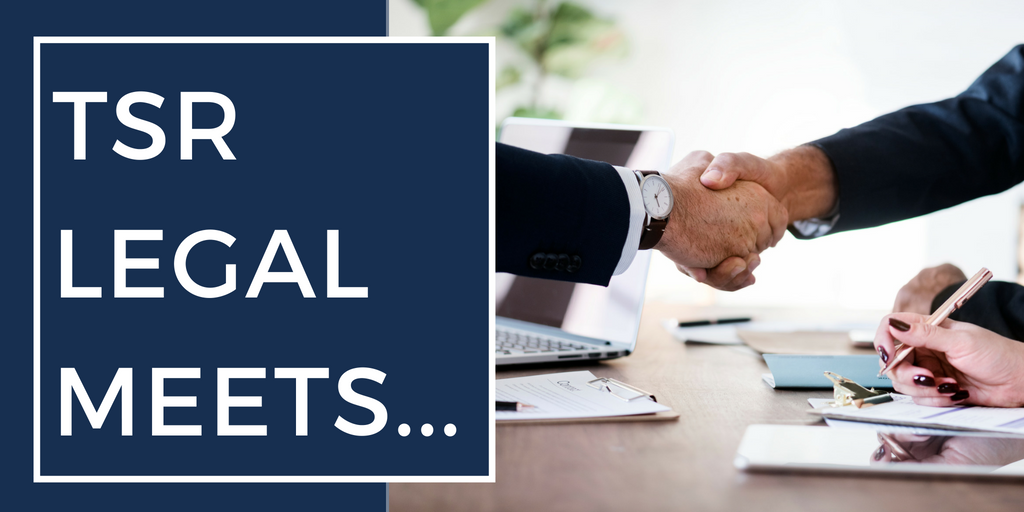 Each month, TSR Legal Recruitment engages with professionals with experience in the legal industry. This month we met Leah Steele, Founder of Searching For Serenity.
Tell us about your experience with the Legal industry.
It was a bit of a convoluted affair; I initially pursued the Bar and was called in 2007 after my undergraduate and postgraduate degrees, but it was a challenging market and I struggled to pursue pupillage. I worked as a Paralegal at various firms / organisations in Bristol whilst I attended interviews. After several years I moved on to option B and pursued qualification as a solicitor through the cross qualification route that was available at the time. I was admitted as a solicitor in 2012 and specialised in contentious probate and mental capacity issues until I took an indefinite career break from law part way through 2018.
Why the change of career?
The short version is that I burned out, but of course there's a much longer story to it.
By the time I qualified as a solicitor I had been practising law for 6 years, and in paid overtime and second / third jobs alone had worked an additional 3.5 years of full time hours. It sounds extreme but if you work 60 hour weeks regularly, you are on the same track.
I had spent a long time pursuing qualification, and the insecurity of position, pay and promise played in to my natural imposter syndrome, which left me overworking out of fear and anxiousness.
After a sudden bereavement in 2014 I thought I could just go back, but the pieces didn't fit together any more. I made changes to my career; moving to a firm closer to home, changing my specialism to be less demanding and over time realised that I was far from the only one. I could no longer carry on pretending I was fine and that pretending there weren't more people like me, so I set up my business, Searching for Serenity. After 9 months of running my business in evenings and weekends around my work as a solicitor, I took the leap to expand operations by leaving law.
In your opinion, what could firms be doing to help their employees avoid burnout?
The number one issue has to be education and understanding; for individuals, HR teams and managers.
From there it becomes a more individualised approach. However, the most common issues that crop up are a failure to take control of client expectation management and allowing a fear of complaints to dictate how we deal with expressions of discontent and high volumes of work. Other key issues include a lack of support at all levels, encouraging open conversation and engagement. Most of the time, the staff who are at the coal face and recognise these issues will come forward and tell you what they need once they feel safe.
The importance of Mental Health has become more prominent; do you think enough support is being offered within the Legal sector?
I think we have improved so much even in the time since I experienced my own burnout issues, but we are not there yet.
Our culture is one of self-sufficient problem-fixers and there is assumption that, in order to fix other people's problems, we must have all the answers. Logically we know it's not true, but as a group we are reticent to come forward and so we hold on to everything, internalise our stress and take responsibility for things far beyond our control.
One of my biggest concerns is the lawyers who, like I did, work in practice areas with high volumes of work with intensely emotional clients or in emotionally demanding areas. At an early stage of qualification I was dealing with cases that involved historic child abuse, assault, rape and suicide. Developing a thick skin doesn't cut it; we need to be able to empathise and engage on an emotional level to work well with our clients and to get the desired results. So how, as a young professional, or even a more experienced professional, are you meant to deal with this?
Therapists have mandatory psychological supervision, police officers working in trauma have to have mandatory counselling, and even the clergy have numerous systems to provide support and guidance. What is the equivalent in law? An informal chat with your supervisor? I know we can do more.
What advice would you give to those who are new to the legal industry?  
Law is an industry that inspired so much in so many of us, but it is easy to put the industry on a pedestal. We work hard for years in order to get our break or our foot in the door and I know that many of the lawyers I studied and worked with sacrificed their hobbies to get ahead. Ironically enough, it's those hobbies and relationships outside of work that will sustain a new lawyer over the long term.
Work hard, of course, but do everything you can to put your work into context; in your life, in the lives of your clients and in the wider context of where you want to be a year, five years, ten years from now.
A sense of humour about the more ridiculous parts of the job is absolutely necessary, it's not all doom and gloom and it's not the end of the world if something goes wrong.
Tell us more about Searching For Serenity
Searching for Serenity is the vehicle through which I provide mentoring and training to professionals who are struggling with burnout, imposter syndrome, a lack of resilience or overwhelm at work.
I do this in a number of ways; working from 1:1 wit individuals, to a low cost monthly membership programme through which I provide weekly training, to live online courses focusing on specific issues such as a resilience, happiness, getting on top of the never-ending to di list we all have…
Beautifully, 90% of my work is online, so I get to spend a lot of time with my partner and pets even as I research and develop work.
The centre of my work is awareness, education and providing clarity; most of us know that we are stressed and tired but when does that become burnout?
From there, I help people to get more clarity, to understand the tiny changes that add up to a big impact.
I've seen to many brilliant lawyers leave law because they thought they couldn't cope, when in fact it was their own imposter syndrome, self-worth and the side effects of burnout that drove them away. Searching for Serenity aims to change to change that by changing the way we think about our work, our lives and what we are worth. We need those brilliant professionals in their jobs, helping other people and doing their very best work.
The name of my business came about years before I ever thought I would leave law; I was stressed out, sitting on the stairs crying with overwhelm and thought ' I'm just searching for some kind of serenity'
What's next for Searching For Serenity?
At the tail end of 2019 I took my first pivot by opening up my work to everyone, where initially it had been for women only, and a second pivot only weeks thereafter to dive into corporate work alongside working with individuals.
In October I launched the first Burnout Prevention Sessions; a one-hour lunch and learn for legal teams with the aim of educating and informing individuals about burnout; how to spot it, manage and reverse it. At the moment I'm busy talking to firms across the south to book these sessions in for their teams.
From there, the plan is to go deeper, with small groups in workshops to get deeper into the work of creating resilience to burnout and tackling the real meat of how we prevent burnout.
My first book, Burnout: The User's Guide will be published shortly and will be quickly followed by books going deeper into Imposter Syndrome, burnout recovery techniques and what it mean to be happier and healthier in our work. I will also be developing more short courses for corporate bodies, together with resources and options for HR department and managers who want a greater understanding of how to deal with burned out staff.
And of course, I develop and release new short courses every 2-3 weeks and write blogs several times a week. If nothing else, I'm living proof that you can burn out and come back even stronger!