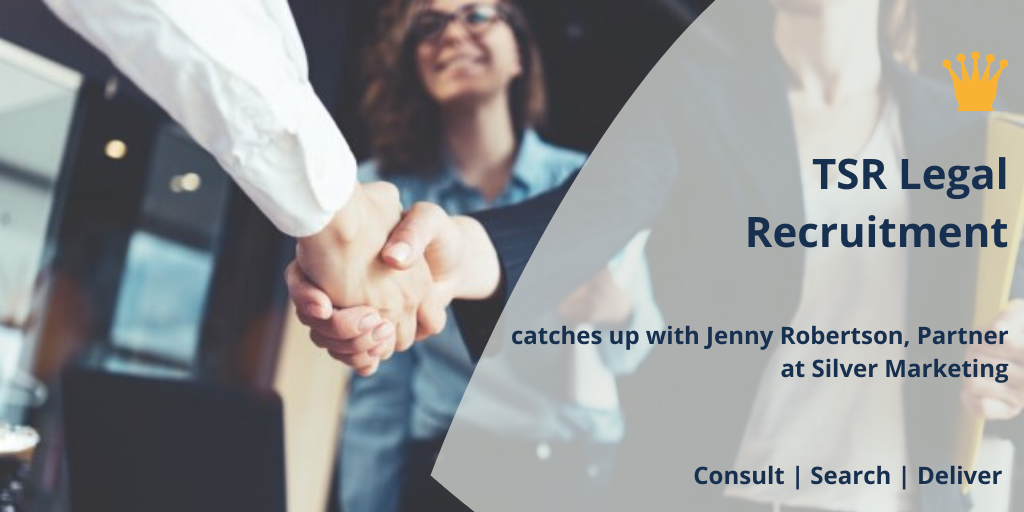 Marketing Manager, Matthew Webb caught up with Jenny Robertson, Partner at Silver Marketing to discuss their involvement with the legal profession, the importance of the on-boarding experience for commercial clients and what future marketing trends we can expect in the legal industry.
Tell us more about Silver Marketing 
There are three of us in the company, Stewart Redpath, Jane Silk and me. We originally set up the business as our clients had a real appetite to market to the over 50s and, Jane in particular, was very busy running training courses for the travel sector.
As time has moved on however, business outlook has changed and we have adapted our business offer to reflect that. Like many business success-stories, we have not ended up where we thought we would when we set out on this journey. The economic and political uncertainty we have experienced in the UK has had a huge impact on our work but not necessarily in a negative way.
Increasingly, businesses want to talk to us about 'making the most of what they have' rather than investing in new people or new ventures. What has surprised us most is that we are doing lots of work for clients which involves coaching and mentoring their marketing staff and at the same time plugging the strategic marketing roles they don't want to invest in at this time. We are also being engaged to undertake customer research and rebranding work. Although we are called Silver Marketing, we joke that the Silver refers to our years of experience (and the real colour of our hair) rather than the potential customers we are helping people target.
What are your experiences of working with professional services and the legal industry? 
We all met working for Lloyds Banking Group around 20 plus years ago. It was an incredible company to work for and at the time delivered outstanding marketing and brand work. The education and training we received was second to none and set us all up for successful careers in professional and financial services. Naturally, we now attract all sorts of clients in this sector.
In a very competitive market, where the key focus is to maintain and develop client satisfaction, what advice would you give to firms regarding their on-boarding experience for commercial clients?
Customer on-boarding is an important manifestation of an organisation's brand, its values and its culture. Key pieces of advice I would give:
Talk to your clients and find out what their experience is really like and also what they need.
Undertake some internal research – find out if your processes are consistent across all departments and are truly on the customer's agenda.
Have an open conversation about what kind of company you are and what kind of company you want to be. This is the start of the dialogue about your brand and can make a huge difference in gaining that competitive advantage.
Think about whether your customer promise, the customer experience and your company cultured are aligned. If there is a disconnect then your clients won't be getting the service they are expecting and you will be starting the relationship on the back foot.
Similarly, firms are focussing on ensuring that their loyal, individual clients get the same brand experience as their new clients. Why is this important to a firm?
We all know that it costs a business more to recruit a new customer than it does to retain an existing one, so there are some pretty simple commercial reasons why this is so important. Again, in a sector like professional services, so much of your work comes from recommendation and word of mouth so its important that you aim for your existing clients to be loyal advocates of your business – they are arguably the best marketing tool that you have. Again, this comes back to customer experience v customer promise v company culture. If you are not meeting client's expectations, there could be a problem brewing which could put your company reputation at risk.
We understand aspects of your business focuses on targeting the affluent individuals of specific markets, in this case the over 50's. What advice would you give to firms who are looking to target this demographic? 
Don't put everyone who is over 50 into the same boat. You are potentially talking to a vast age range of people. You would not talk to a twenty year old the same way you do a 45 year old, so don't do it with a fifty year old and an eighty year old.
Challenge your marketing team. Most marketeers are under 30 and if you ask them how many people or who they know is over 50 I don't think you'll get a list that contains anything other than family members. So, delve deep and ask yourself whether your company has the skills and experience to communicate with perhaps your most valuable clients.
Don't underestimate their use of digital and social media, especially Facebook, and increasingly, Instagram.
Ensure your copy is clear, your imagery is aspirational but not cliched, and your tone is adult and not in any way patronising.
What is next for Silver Marketing and future trends that we can expect in the legal and professional services?
The start of the year has been incredibly busy, much more than we anticipated and we've had quite a few approaches to undertake some really interesting customer research projects. As well as working with professional services clients, we are building a good portfolio with charities and foundations and are looking forward to some new work in that area. For the legal sector in particular there will be the usual struggle to stand out from the crowd and differentiate your offer from others. I think customer on-boarding will continue to be an area of development and undoubtedly mergers and acquisitions will continue to shake things up. I would remind anyone working in professional services that one of your most valuable assets and key differentiators is your brand and that does not mean your logo or your website, it means your people. Focus your marketing and branding efforts there and you will be taking a big step in the right direction.
If you would like to contact us regarding any of the topics that were discussed above or if there is any other way we can assist you, please feel free to get in touch.
Jenny Robertson
Partner at Silver Marketing
T: 07500 865 550
E: jenny.robertson@silvermarketing.co.uk
Connect with me on LinkedIn