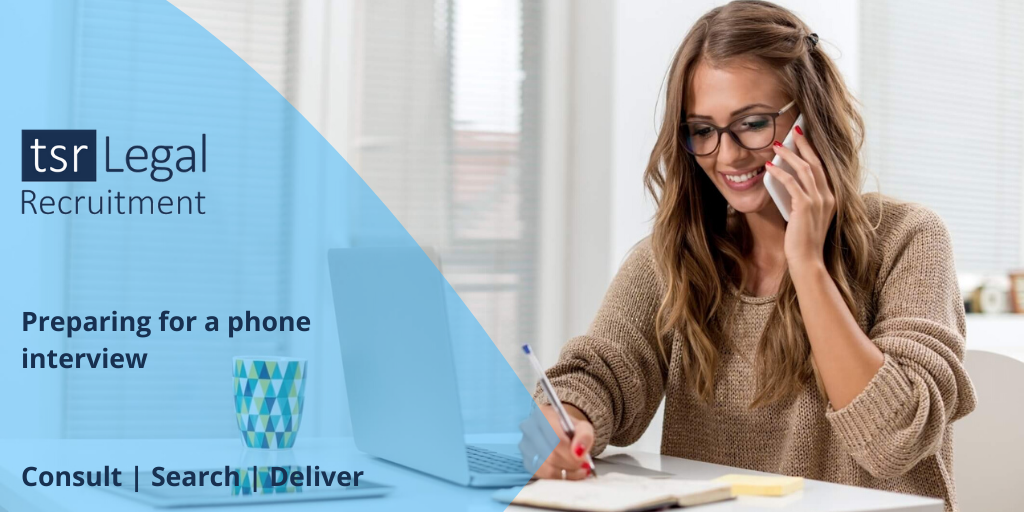 As additional safety measures are being put in place to combat the threat of the Coronavirus, many law firms are reverting to telephone interviews in order to proceed with their recruitment needs.
We wanted to ensure that our candidates are fully prepared should they be requested to interview via this method.
Find a good location
It is vitally important that you are in an area that has good reception and is quiet. You want to ensure that you can hear the interviewer clearly and be able to provide relevant answers to their questions. If you do happen to mishear one of the questions, don't be afraid to ask the interviewer to repeat themselves. It is better to do that than to provide an answer that is not related to the question.
Prepare notes
One real advantage of taking part in a phone interview is that you can create a 'cheat sheet' for yourself. This is a great opportunity to write down questions you would like to ask and outline any key pointers regarding the company you're interviewing for.
Dress the part
Dressing up for a phone interview may sound odd, but the right clothing will put you in the right mindset. The image we project of ourselves doesn't just communicate through appearance – it shows in our mannerisms, speech and other subtle cues.
Be prepared
A telephone interview provides the perfect opportunity to have your CV, firms website and job description to hand, so make the most of it. It is also worth having a look at the LinkedIn profile of those you are speaking with.
Don't forget to smile
During a phone interview, your interviewer will be paying particular attention to the tone of your voice. So be positive, smile throughout and show your enthusiasm for the role.
Keep it conversational
Interviewers aren't just looking for a candidate with the best skill set, they want someone who has the right personality that will fit in with the culture of the team. Use a friendly, conversational tone of voice rather than robotically answering the questions.
Avoid awkwardness
When dealing with an initial phone interview, it's best to avoid asking questions regarding salary and benefits. This stage of the recruitment process is about impressing the interviewer with your knowledge, personality and showing what you can offer their company.
Follow-up with thanks
Once your interview has concluded, send your interviewer a quick thank you. Sending a word of thanks simply shows that you appreciate them taking the time out of their busy schedule to speak with you. And who does not enjoy being shown some appreciation?
We hope you find these tips useful. If you do have any questions regarding a phone interview or would like a confidential discussion regarding your legal career, please contact our team of experienced legal consultants.
Rachel Phillips
Legal Recruitment Manager
T: 02920 388 100
E: Rachel@tsrlegal.co.uk
Connect with me on LinkedIn