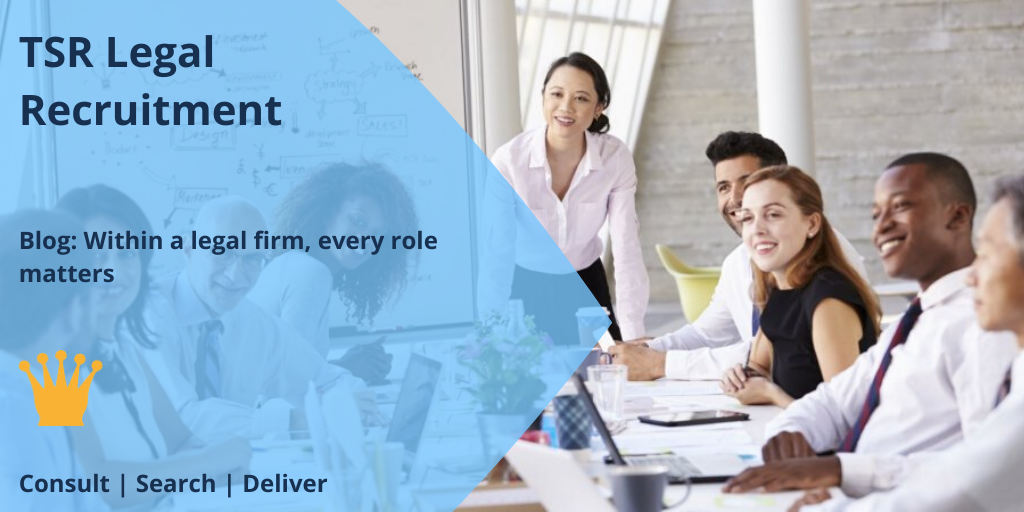 Every single role within a law firm has vast importance. From an Office Assistant, right through to Partner level, every role plays its part in creating an identity and culture that will attract the very best clients and candidates.
In recent times, it has been the case that more 'junior' roles were not given the respect and appreciation they deserve. In the workplace, people would ask, "What do they actually do?" Or make passing comments such as "I wish my job was as easy as theirs". So often in life, people only appreciate what they have first-hand knowledge of. They would only focus on how difficult their own job is and did not really have an interest in others or the work they do.
Originally coming from a Marketing background, I was often questioned about the difference I was making within the business. Every day I felt as though I had to justify my work and myself.
Since joining the world of recruitment and legal, I have seen a real development in the emphasis being placed on the importance of finding the right people to fill Operational and Business Support roles. Senior members within law firms now recognise that every department plays its part in the overall success of the business.
Marketing – If they don't promote your brand and highlight what sets you apart from your competitors, how will you attract new clients and candidates? Word of mouth will only get you so far.
Sales – To put it simply, if sales staff do not follow up on new leads / opportunities, how else will your firm bring in additional revenue? Sales staff are vitally important in developing relationships with clients.
Operations – Operations play a key role in the everyday running of a firm. They create and maintain a streamlined service that benefits employees and creates a simpler communication pathway for clients.
Finance – A very integral part of any firm. They will deal with every aspect of a firm's financial affairs and are involved in the budgetary and reporting cycles. The data that they report on must be up to date and reliable.
HR – A department that has a huge impact across the entire firm. Whether that is in regards to the hiring of new employees or how they handle disciplinary issues, the decisions they make are very much in the spotlight!
Every person within a law firm is valuable. So whether you are in Marketing, Sales, Administration or Finance, rest assure that you will be valued within the legal sector.
If you are thinking about your next career move, please contact me for a confidential discussion and let's find you a role where your value will be noticed and appreciated.
Sallie Jones
Operational and Business Support Legal Recruitment Consultant
T: 02920 388 100
E: Sallie@tsrlegal.co.uk
Connect with on LinkedIn