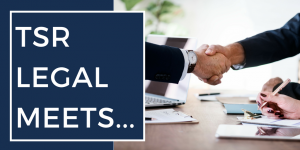 TSR Legal Meets Paul Jones, Partner at Insight Law
This month we are interviewing Paul Jones, Partner at Insight Law.

Paul co-founded Insight Law in 2012 after working for almost 15 years in the property teams of commercial law firms and in the public sector. He has acted for banks plus regional and national developers on multi-million pound projects, as well as working with small to medium-sized house builders, third sector organisations, and private property investors on site acquisition, development and disposal.
What has been your highlight of working at Insight Law to date?
I think our growth into the Bristol and South West legal market in 2014. It's provided us with some fantastic opportunities to work on deals and projects that we wouldn't have had if we were a Cardiff only firm.
How does your firm stand out from the crowd?
I think its our acknowledgement that legal services has changed to be a lot more of a consumer based offering, whether lawyers like it or not we live in an age of instant results and instant news. Legal services must adapt to match that speed, our challenge as lawyers to maintain accuracy with that speed.
What do you enjoy most about the culture at Insight Law ? 
It's the people. Staff and their attitude to work,clients and the law are so important and getting the blend of work life balance and success is still the holy grail, but that's what we work really hard on delivering…..
What advice would you give to aspiring lawyers?
Don't do it!!!!! Only kidding,I would say that its so important to remember the law. That sounds obvious, but in a property transaction the law and the reason we do what we do is often lost in process to young lawyers. There is a legal principle behind those processes so learn/remember that and you will be a much better lawyer….and finally, don't stop reading, a legal career is a constant learning curve!
What can we expect to see from Insight Law in 2019?
Brexit aside…..growth, hopefully more growth! We've specialised and then specialised the specialisms and its working well for us. We're always looking to develop and specialise and if that specialism involves me having to open an office from a beach hut on some beautiful little Caribbean island, well I'm prepared to make that sacrifice!!!!!!! In real terms, who knows? Deal or No Deal, as business owners there's a fine line to tread of not standing still but also not overreaching ourselves in uncertain times…….